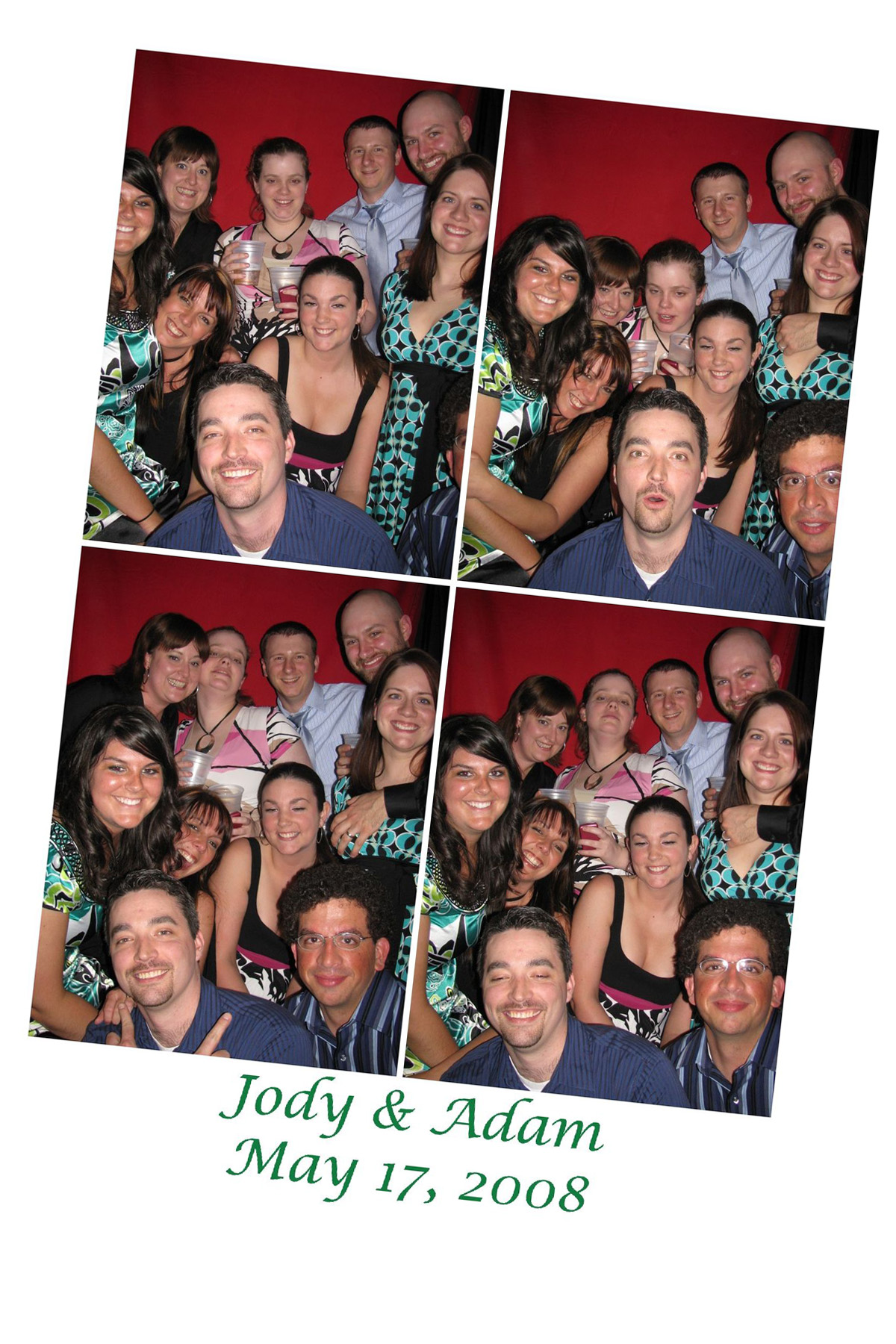 The concept is very simple. Guests are invited to enter an automated photobooth which takes four pictures at timed intervals. Moments later the pictures are printed so they can then be shared with other guests or cut out and placed into a scrapbook, creating a more contemporary style guest book.
The process is extremely entertaining. The key elements to the photobooth experience are the automation of the pictures -there is no photographer in the booth to inhibit the creativity- and the privacy of the enclosed photobooth. When the curtain is pulled shut, almost anything can happen. People have so much fun taking pictures in a photobooth, from standard portraits, to the more creative expressions, to the just plain silly. The ability to view the resulting pictures nearly immediately just adds to the experience. Guests love sharing their pictures with others and showcasing their creativity. Often guests will try to "outdo" each other.
We purposely created our booth to accomodate more than 2 people.  Other booths you see out there might only fit one couple, which may be great for romantic pictures, but our booth can hold 12!  It's been done before.  This flexibility allows for a an entire family to get their picture taken together.  So whether it's 1, 2, or 12, everyone can have fun in the booth.

Photobooths make weddings more memorable and fun for everyone. Guests of all ages almost always stay later when there is a photobooth present. Also it provides a wonderful opportunity for friends and family, whom likely have not been together for some time, to take a nice picture together. It is not uncommon to hear comments from grandparents and relatives saying they have not had a nice picture taken together in years.
Why spend money on disposable cameras that will cost hundreds of dollars to get developed?  Many pictures will either not turn out or look like a 2-year old took the photo, and not to mention the fact that the guests who took the photos rarely get to see them. 
The bottom line is that photobooths, especially at weddings, are so much fun! Guests really love them and the resulting pictures are a great way to further memorialize your wedding day. Plus the pictures make the perfect "Thank You" gifts for your guests.
You'll also receive a CD with all of the pictures taken in the booth, within two weeks, at no additional cost.
Company Events
From holiday parties and customer appreciation events to trade shows, photobooths are the perfect way to ensure that the event is a huge success. Guests, customers, and clients will enjoy themselves more, be engaged longer and thus stay later when there is a photobooth at your event. Plus everyone will leave with a perfect memento, conveniently branded with your company's logo or unique message on the bottom of their pictures.  Have a banner or poster with the company logo or event signage? We can include that as the backdrop in the booth.  What better way to get your brand image in the minds of your guests than having your company logo as the background of every picture!
Private Parties
Birthdays, anniversaries, family reunions, Halloween parties, Pep Rallies, New Years Eve celebrations, all are perfect for a Party Booths digital photobooth rental. If you are planning a special occasion of any kind, consider having a photobooth. It is sure to add immensely to your celebration and the resulting pictures will serve to ensure that everyone remembers your amazing party for years to come.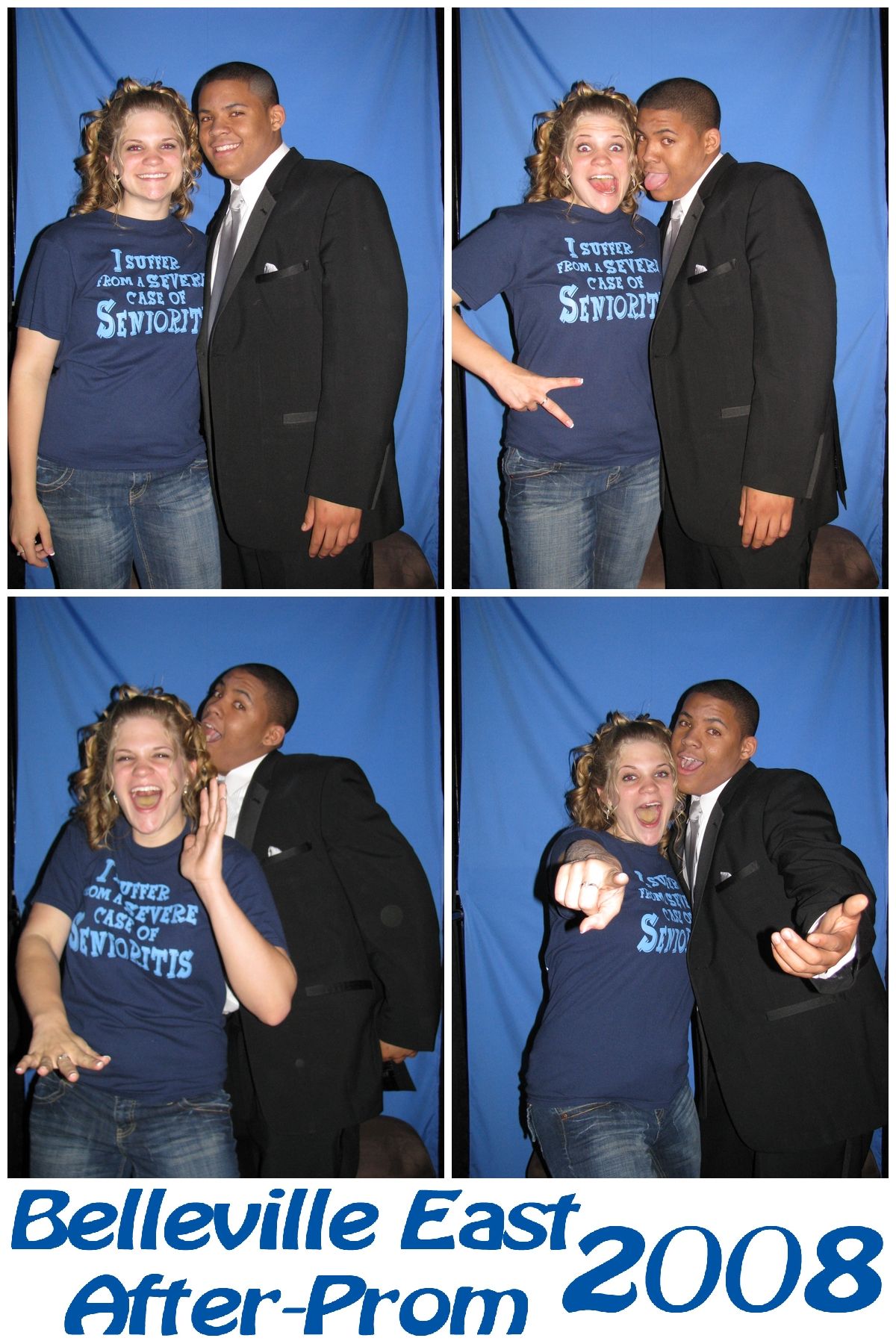 School Functions
Photobooths are perfect for proms, school dances, year end celebrations, and class reunions. Young people in particular really enjoy the photobooth experience. The resulting pictures make great additions to yearbooks too. Just imagine the great pictures we would have had today if we had photobooths at school events back in our day.
Wedding DJ Belleville - Music for Wedding Ceremony - Sound Systems Belleville - Collinsville IL DJ - Waterloo IL DJ -Columbia IL DJ - Albers IL DJ - Mascoutah IL DJ - Alton IL DJ - Caseyville IL DJ - New Baden IL DJ - Trenton IL DJ - Germantown IL DJ - Nashville IL DJ - Red Bud IL DJ - Freeburg IL DJ - Scott Air Force Base IL - Clayton MO DJ - Valmeyer IL DJ - Arnold MO DJ - Aviston IL DJ - Breese IL DJ - Dupo IL DJ - Edwardsville IL DJ - Fairview Heights IL DJ - Glen Carbon IL DJ - Godfrey IL DJ - Granite City IL DJ - Maryville IL DJ - New Athens IL DJ - O'Fallon IL DJ - Smithton IL DJ - Bridgeton MO DJ - Chesterfield MO DJ - Fenton MO DJ - Highland IL DJ - Lebanon IL DJ - Saint Louis MO DJ - Grafton IL DJ - Sparta IL DJ - Greenville IL DJ - St.Clair County DJ - Clinton County DJ - Monroe County DJ - Night Magic Entertainment - TKO DJ - Complete Music - Short Circuit Entertainment