Photobooths are exploding in popularity throughout the country because they are fun, unique, and the resulting pictures are mementos that your family and guests can take with them to cherish the evening.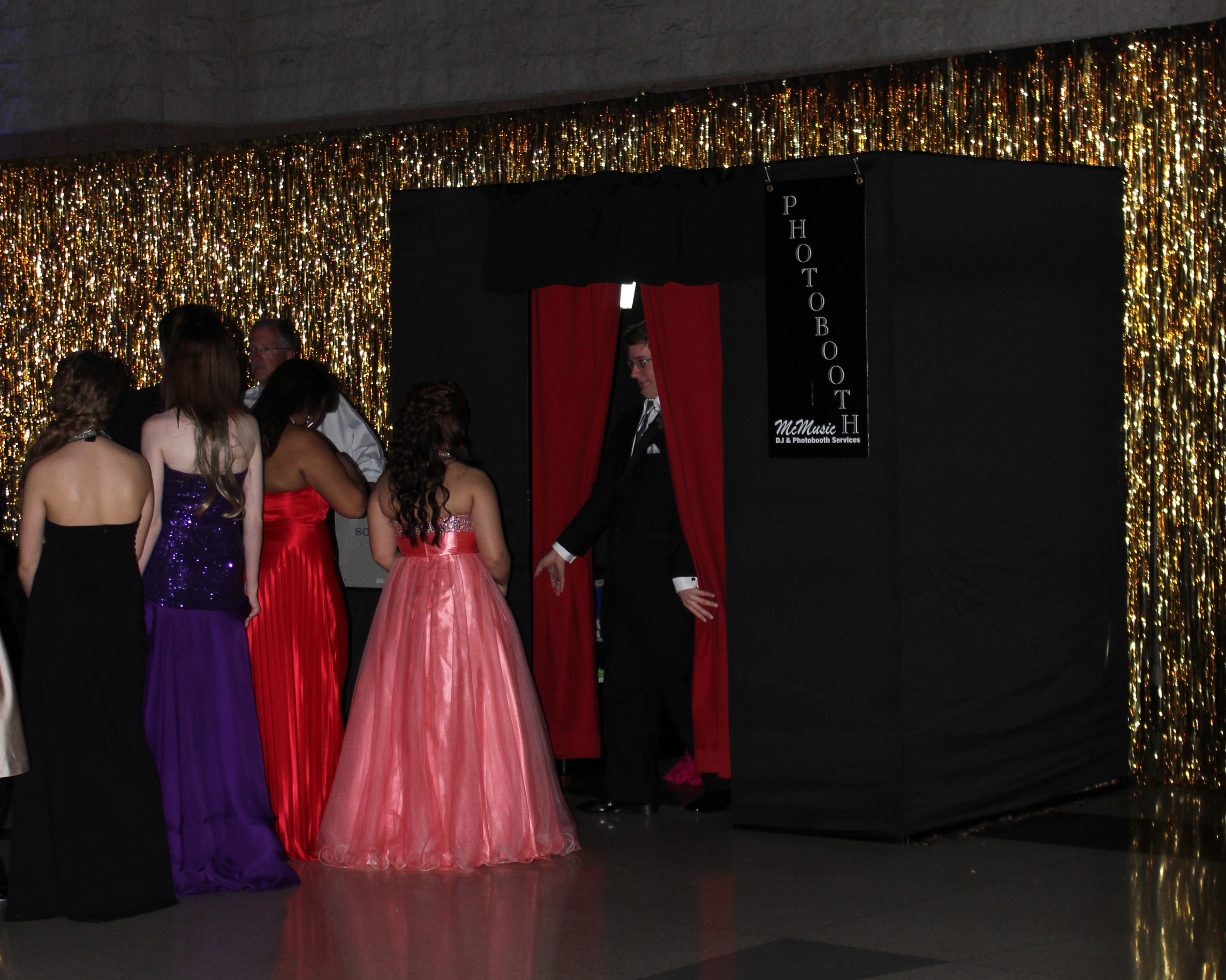 They say that imitation is the best form of flattery.  If that's so, then we're EXTREMELY flattered.  Since we've added photobooth rental to our services, we have noticed a few others in the area trying to duplicate what we do.  However, no matter how hard they try, they'll never match McMusic.  Here's why you'll find our company unique:
1.  The size of our booth. Most of the other booths in the area are only big enough to fit 2 people, maybe even squeeze 3 people into the picture.  Our booth can accommodate 1, 2, or 12 people very easily.  On a few occasions, we've had more than 12 in the picture.  We've custom built our booths specifically for their size.  We wanted to make sure that the bride and her bridesmaids, grandma and the grandkids, or the boss and co-workers, would all be able to take a picture together.  Although our booth is bigger than the traditional photobooth, it still blends in well with any event.  

2.  We offer flexibility in the layouts of your pictures. Other companies only offer just the "strip" layout for the pictures.  We give you options as to the layout of the pictures.  In addition, we'll customize the wording on your prints and can even use your logos if desired.  Another option that you have is the selection of the color of the backdrop in the booth.  We currently have over a dozen different colors and materials to choose from and are adding more all the time.  This helps ensure that your wedding colors will stand out in your pictures.  
3.  Personal service.  When you rent the Photobooth, you'll have a personal attendant on-site during the contracted time.  Our attendant will assist your guests throughout the process.  In addition, if the scrapbook option is selected, a 2nd attendant will be on-hand to help organize and assemble your scrapbook.  Other companies will have a book sitting on a table and have the guests do it themselves with a glue stick.  Our scrapbook attendants are experienced in scrapbooking layouts and use professional scrapbooking materials and paper to ensure your book will last for many years.
4.  Quality. From the high quality of the prints that your guests get to take home, the quality of the booth itself, to the digital images that you'll get on CD, everything is top-notch.  We don't take shortcuts.  We use dye-sublimation printers that not only produce a print within seconds, but they are scratch and smudge proof the moment they come out of the printer.  Our booth is custom engineered to be portable but yet professional.  Made from black, powder-coated, heavy duty aluminum, our booth is built to last and can go anywhere.  Lastly, we use 8 megapixel cameras and professional lighting to capture the best image possible.
Sure, you might find a cheaper photobooth in the area, but that's exactly what you'll get: cheap pictures, lack of customization, a poorly constructed booth, and a menu of add-ons that end up costing you more in the long run.  You only get one chance to do it right.  With McMusic, you'll work with an experienced company that knows how to make it happen!

Explore the site to learn more about our Photobooth.