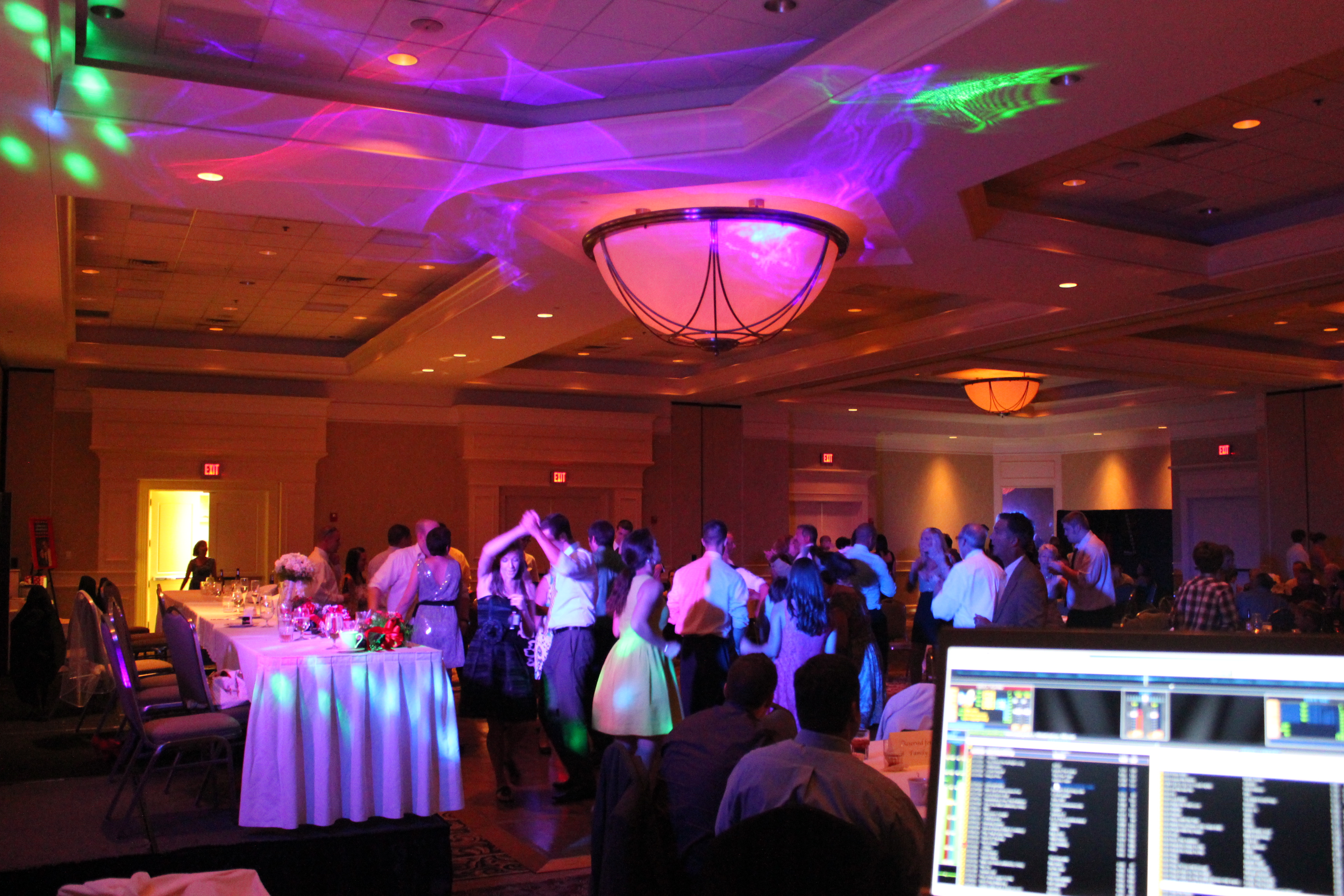 Our music library spans from the 1950's to the current hits of today.  It covers all genres of music:  oldies, disco, country, swing, 80's, dance rap, modern rock, mainstream hits, and more.   We belong to a music subscription service for DJ's and radio stations.  We receive songs at the beginning of the month that will be released on the radio within that month.  It helps ensure that we've got the popular music even before it becomes popular!
The most important thing about the music at your event...you're in control.  Don't expect us to show up and play our favorite songs.  At our sit-down consultation, we will work with you to plan the music for the event.  Whether you've been working on that list of songs since you were a kid or you want us to use our expertise to play to your crowd, you're in control.  The other benefit of having the consultation a few weeks before the event, is that if you've got an unusual song request that we may not currently own, it gives us time to locate the song before your event.
Most clients will give us a short list of ten or so songs that they want to make sure get played at their event and then tell us, "do your thing".   We're happy to oblige.  We'll play a variety of music, while incorporating your requests, and at the same time, see what your crowd is reacting to.  If we play a country song and the dance floor is empty, chances are we won't be playing much more country music.  However, if we played a disco song and the dance floor is full, this let's us know they're ready to get active and dance.  But don't worry, your event won't turn into Dance Fever audition night with only Disco music!
Wedding DJ Belleville - Music for Wedding Ceremony - Sound Systems Belleville -Albers IL DJ, Alton IL DJ, Arnold MO DJ, Aviston IL DJ, Breese IL DJ, Bridgeton MO DJ, Caseyville IL DJ, Chesterfield MO DJ, Clayton MO DJ, Clinton County DJ, Collinsville IL DJ, Complete Music Dupo IL DJ, Edwardsville IL DJ, Fairview Heights IL DJ, Fenton MO DJ, Freeburg IL DJ, Germantown IL DJ, Glen Carbon IL DJ, Godfrey IL DJ, Grafton IL DJ, Granite City IL DJ, Greenville IL DJ, Highland IL DJ, Lebanon IL DJ, Maryville IL DJ, Mascoutah IL DJ, Monroe County DJ, Music for Wedding Ceremony Nashville IL DJ, New Athens IL DJ, New Baden IL DJ, Night Magic Entertainment O'Fallon IL DJ, Red Bud IL DJ, Saint Louis MO DJ, Scott Air Force Base IL Short Circuit Entertainment Smithton IL DJ, Sound Systems Belleville Sparta IL DJ, St.Clair County DJ, TKO DJ, Trenton IL DJ, Valmeyer IL DJ, Waterloo IL DJ, Columbia IL DJ, Wedding DJ, Belleville wedding, Rockstar DJ, Gateway DJ, Epic Entertainment, Memories Productions, Albers IL Photobooth, Alton IL Photobooth, Arnold MO Photobooth, Aviston IL Photobooth, Breese IL Photobooth, Bridgeton MO Photobooth, Caseyville IL Photobooth, Chesterfield MO Photobooth, Clayton MO Photobooth, Clinton County Photobooth, Collinsville IL Photobooth, Complete Music, Dupo IL Photobooth, Edwardsville IL Photobooth, Fairview Heights IL Photobooth, Fenton MO Photobooth, Freeburg IL Photobooth, Germantown IL Photobooth, Glen Carbon IL Photobooth, Godfrey IL Photobooth, Grafton IL Photobooth, Granite City IL Photobooth, Greenville IL Photobooth, Highland IL Photobooth, Lebanon IL Photobooth, Maryville IL Photobooth, Mascoutah IL Photobooth, Monroe County Photobooth, Music for Wedding Ceremony, Nashville IL Photobooth, New Athens IL Photobooth, New Baden IL Photobooth, Night Magic Entertainment, O'Fallon IL Photobooth, Red Bud IL Photobooth, Saint Louis MO Photobooth, Scott Air Force Base IL, Short Circuit Entertainment, Smithton IL Photobooth, Sound Systems Belleville, Sparta IL Photobooth, St.Clair County Photobooth, TKO Photobooth, Trenton IL Photobooth, Valmeyer IL Photobooth, Waterloo IL Photobooth, -Columbia IL Photobooth, Wedding Photobooth, Belleville Photobooth, 2 Chics, Fish Eye fun  Photo, Capture Pod, Lasting Impressions, STL Booths, Strike A Pose, the party inc, trotter photo, x fader, Wedding DJ Belleville - Music for Wedding Ceremony - Sound Systems Belleville